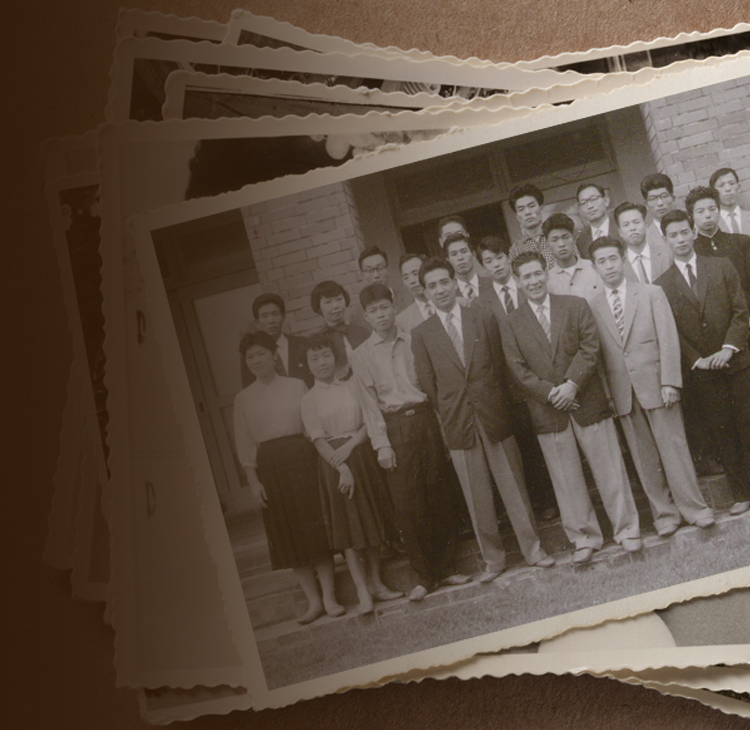 Our History
After a tumultuous foundation,
we find our feet on the national stage
Our origins date to the early Showa period. In 1938, three founders established Kansai Felt Shokai. One of the three, Etsuo Eguchi, was appointed president, and our company's story began. It was, however, an inauspicious time to start a company, with war clouds gathering.
In the immediate post-war period, our factory and head office building in Osaka was, like much of the city, reduced to rubble. Kansai Felt was fortunate enough to recover and started again as a felt trading company. Our company later signed agency agreements with manufacturers and expanded business activities as rapidly as possible by focusing on processing and wholesale trading.
By the mid-1960s, work had begun establishing the forerunners of our existing floor-covering and automotive businesses at an enterprise level. We continued expansion throughout diverse markets. During the 1970s, Kansai Felt Fabric commenced trade with North American and Southeast Asian businesses, signing sole agency agreements with the biggest American floor-coverings, tools, and accessories manufacturer, Roberts Consolidated Industries U.S.A., as well as BWF Offermann, Shmid & Co. KG, a leading European felt company.
Founding president Etsuo Eguchi's mission was "to expand the business nationwide". To achieve this, Kansai Felt Fabric opened new domestic branches and has since grown into a company with a diverse business portfolio covering everything from import-export to manufacturing, sales, and construction.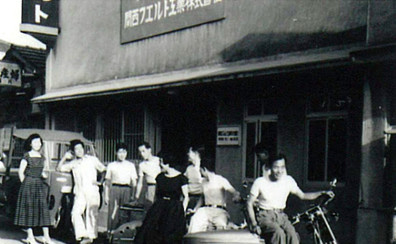 Kansai Felt Shokai headquarters in the 1940s.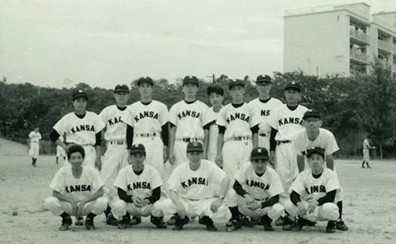 Founding president Etsuo Eguchi (center) was an active participant in the company club.
A trial-and-error learning curve leads us towards a 100-year milestone
Under the leadership of our second president, Tsuneo Eguchi, Kansai Felt Fabric embraced the challenge of overseas expansion. As domestic electronics manufacturers consolidated a movement into offshore markets, we assisted with materials supply. Our first subsidiary company was established in Singapore in 1978. Another opened in Thailand in 1988. Over the next 30 years, Kansai Felt Fabric opened a total of six international subsidiaries, and by 2011, our automotive division was showing growth overseas.
Our environmental division opened in 1978. Buoyed by sales of a new filter bag featuring high-function felts from BWF, we continued our contribution towards maintaining and improving Japan's air quality. And from our burgeoning floor-covering division, a new floor-covering installation business opened in 2004. We made steady progress as a leader in the floor-covering materials market sector.
From the beginning, our company has harnessed trial-and-error as a means to enrich our learning experience with strategic cooperation between subsidiaries and head office creating new synergies and opportunities. As we grow, Kansai Felt Fabric continues its efforts to diversify.
More than 80 years have passed since our foundation. Second president Tsuneo Eguchi successfully carried Etsuo Eguchi's business principles through a period of expansion. That torch now passes to a new generation of leaders as Kansai Felt Fabric heads towards its 100th year in business. Ken Eguchi and Yoshitaka Eguchi's vision is to bring the founders' legacy into the future, taking action appropriate to the circumstances while harvesting experience hard-won through trial and error. With stable management connecting back to the business's formation in 1938, and evergreen commitment to the "THREE I" of Integrity, Innovation, and Interaction, Kansai Felt Fabric looks to the future with confidence.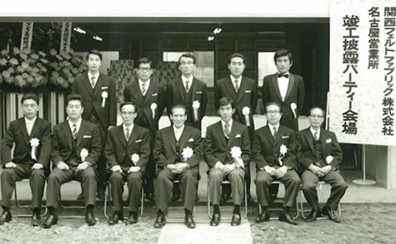 Staff at a ceremony celebrating the completion of our Nagoya sales office.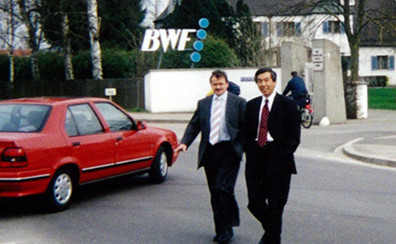 Second President Tsuneo Eguchi during a visit to BWF in Germany.
Timeline
October 1938

Etsuo Eguchi establishes Kansai Felt Shokai in Kita-ku, Osaka, Japan, marketing all kinds of felt.

September 1959

Company changes its name to Kansai Felt Fabric Co., Ltd.

April 1960

Tokyo sales office established in Minato-ku, Tokyo, Japan.

March 1962

Nagoya sales office established in Nishi-ku, Nagoya, Japan.

August 1969

Fukuoka sales office established in Hakata-ku, Fukuoka, Japan.

September 1974

Appointed sole Japan agent for U.S. company Roberts Consolidated Industries, Inc.

November 1978

Kansai Felt (Singapore) Pte. Ltd. established.

March 1982

Appointed sole Japan agent for German company BWF Group.

March 1985

Etsuo Eguchi appointed chairman and Tsuneo Eguchi appointed president.

September 1986

Production and Logistics Center established in Gamagori, Aichi, Japan.

September 1988

Kansai Felt (Thailand) Co., Ltd. established.

January 1995

Kansai Felt (Hong Kong) Ltd. established.

October 1997

Appointed Japanese agent distributing solvent-free adhesive made by German company Kiesel.

July 2002

Kansai Felt (Shanghai) Co., Ltd. established.

March 2003

Appointed sole Japan agent for U.S. company Color Rite, Inc.

January 2004

We acquire our construction industry license.

April 2008

Appointed Japanese distribution agent for Dutch company Forbo.

September 2008

Kansai Felt (Dongguan) Co., Ltd. established.

October 2008

Appointed sole Japan agent for U.S. company TRAXX Corporation.

April 2010

We establish East i Co., Ltd. specializing in installation services and open its sales branches in Higashikanda, Chiyoda-ku, Tokyo, Japan.

April 2014

Kansai Felt (Vietnam) Co., Ltd. established.

March 2015

Ken Eguchi appointed chairman and Yoshitaka Eguchi appointed president.

April 2015

Achieve a 10-billion-yen asset valuation.

October 2018

Celebrated our 80th Anniversary.

April 2020

East i Co., Ltd. sales branches open in Kita-ku, Osaka city, Osaka, and Nishi-ku, Nagoya city, Aichi.