Message
Leadership Team
Be a Good Company,
Be a Good Interface.
Creative partnerships that offer information and extra value to our customers.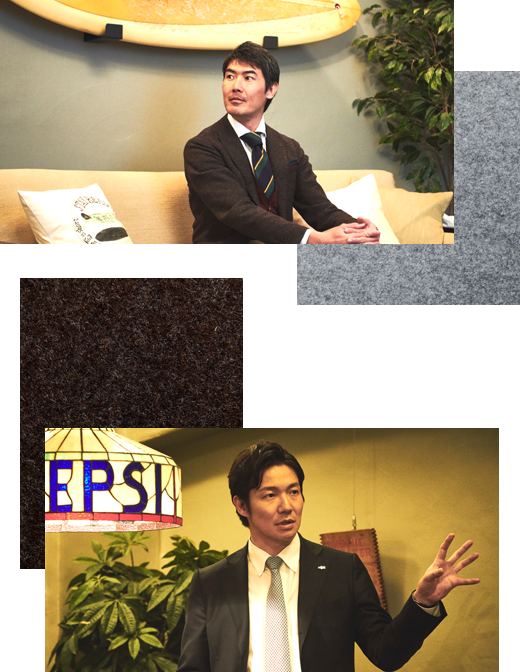 Kansai Felt Fabric started as a wholesale supplier of felts and has continually expanded its business while responding flexibly to the needs of its customers. We are developing four business areas comprising General Materials, Automotive Materials, Envirotec, and Floor Covering Materials. We supply products that make the world's manufacturing, office, and living environments more comfortable.
Our strength lies in experience and a track record that's proven over 80 years in business. We were one of the first companies in the industry to develop our business overseas. In 1974, we signed an exclusive distributorship agreement with Roberts, a leading U.S. interior building materials manufacturer. And in 1982, we were appointed exclusive Japan agents for German company BWF, a major European felt manufacturer. Since then, Kansai Felt Fabric has allied prominent manufacturers in the U.S. and Europe in an ongoing effort to provide our clients with state-of-the-art materials.
We also established offshore bases and a business network throughout Asia. This makes it possible for us to deliver services swiftly to the production sites of Japanese companies expanding into the region. Years of business engagement with foreign-affiliated companies has accelerated our globalization. More of our employees are experiencing overseas work, passing on knowledge to our human resources, and playing active roles as citizens of the world.
Our corporate mission statement, "Be a Good Company, Be a Good Interface" reminds us to be a "good interface" for society and to continue building on achievements made over the years. It also expresses a hope that we can continue to be a "good company" for the people invested in Kansai Felt Fabric (our business partners, employees, and their families).
Through our corporate mission and mission statement, we keep on striving to be the best that we can be, to earn our stakeholders' trust, and to be partners in mutual growth while carrying our predecessors' legacy forward into the future.
Ken Eguchi
Chairman & CEO
Yoshitaka Eguchi
President & CEO

Mission Statement

THREE I

We commit to demonstrating the "THREE I" in daily business to fulfill our corporate mission.
I

NTEGRITY

We continue to interact with and respond to our customers with

sincerity

and

diligence

. We strive to earn the trust of our customers by making this effort.
I

NNOVATION

New things are created by changing the shape of existing things and using them in novel ways. We

challenge

ourselves to bring about

innovation

by mobilizing our creative power.
I

NTERACTION

With your support, we have been able to weave an 80-year business history. We will continue to shape our future through

cooperation

and

collaboration

with stakeholders all around the world.