We handle a variety of interior materials, floor coverings, and tools sourced from Japan, North America, and Europe, and offer customers a one-stop service from consultation to supply, delivery, and installation.
Advanced construction techniques and tools complement a diverse selection of interior materials and floor coverings. In recent years, we have promoted use of adhesives compliant with EC1 standards (the highest health and environmental safety standard in Germany) in partnership with Keisel, a move that's been recognized and embraced by leading construction companies.

Careful selection of the most suitable materials
We do business with more than 1,000 corporate customers and handle more than 500 different kinds of products. In addition to domestic products, we have partnered with U.S. companies TRAXX, Roberts, and Color Rite; German company Uzin; and Forbo of the Netherlands. We are unique in our ability to offer advanced construction materials and tools from around the world in one place.

Latest construction techniques
With more than 50 years of history since the foundation of our floor-covering business, Kansai Felt Fabric has accumulated a wealth of construction knowhow. Seventy percent of our sales representatives are certified second-class construction management engineers. We periodically hold workshops to familiarize ourselves with the latest tools. We are committed to providing customers with world-class construction techniques and technologies.

Leave installation to us
Depending on customer needs, we not only supply construction materials and tools, we also can handle installation. In 2010, we established East i Co., Ltd., a subsidiary specializing in interior construction work. We are helping to counter the present shortage of engineers in the industry with qualified and experienced staff.
Product Examples and Simulated Construction Images
In addition to the floor, wall, and sub-materials listed below, the tools and machines used by skilled craftsmen during installation are of paramount importance. Our cooperative network of craftsmen continues to expand as we strive to provide customers with service of the highest quality.
Product Examples
Flooring
(Tile carpet)

Secondary floor-covering materials
(Carpet underlay)

Wall materials
(Bulletin board)

Dressed lumber
(Desktop)

Adhesives
(KF40, KF7α)

Repair materials
(Color Rite)
Installation examples (8th floor of our Tokyo office)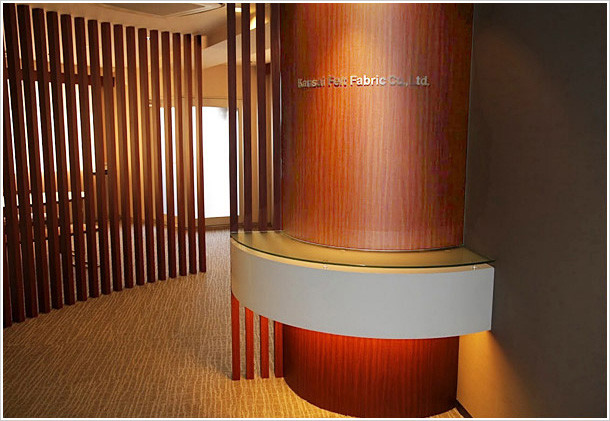 Overseas Partners
North America
Europe
Asia